Our Goal Is To..

Improve Every Patient's Quality of Life
About Us
Welcome to
Advanced Ear, Nose & Throat - Head and Neck Surgery
We provide comprehensive ear, nose and throat care to patients of all ages in the Las Vegas area. Our mission is to deliver the most advanced diagnostic, medical and surgical treatments available. We take a patient-centered approach to evaluations, as we believe the best outcomes are achieved when strong doctor-patient relationships are built.
Our goal at Advanced Ear, Nose & Throat is to improve every patient's quality of life through better preventative and medical care.
Meet Our Team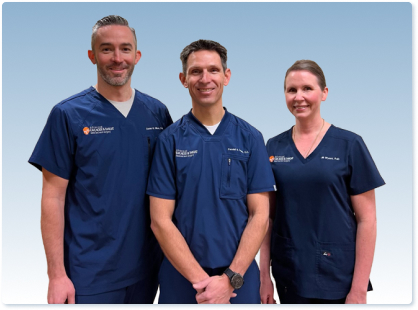 Daniel B. Hilton, DO, FAAOA
---
Randall S. Lomax, DO
---
Jill Wyant, Au.D.
Hearing Loss
Hearing loss affects an estimated 48 million Americans of all ages, making it the third most common physical condition in the U.S. Many factors contribute to hearing loss, including aging, noise exposure and disease. Fortunately, most patients can benefit by amplification from hearing aids.
Prevent Hearing Loss
Allergy
An allergy is an exaggerated response from your immune system to a normally harmless substance. Allergies affect one out of every five Americans. There is no need to suffer; our ENT specialists offer allergy testing and proven treatment plans to ease your suffering and improve your overall quality of life.
Explore Treatment
Sinus
Sinus infections are one of the most chronic health complaints in the U.S., causing 37 million Americans to experience a variety of cold-like symptoms including congestion, runny nose, sneezing, headaches and facial pain or pressure. We have treatment plans that will bring you long-term relief.
Sinus Relief
Pediatrics
Children are not immune to ear, nose and throat disorders. Our otolaryngologists are skilled in providing medical and surgical solutions for pediatric patients, whether they are suffering from common ear infections or more serious conditions. We provide compassionate and effective care to ensure their good health and your peace of mind.
Explore